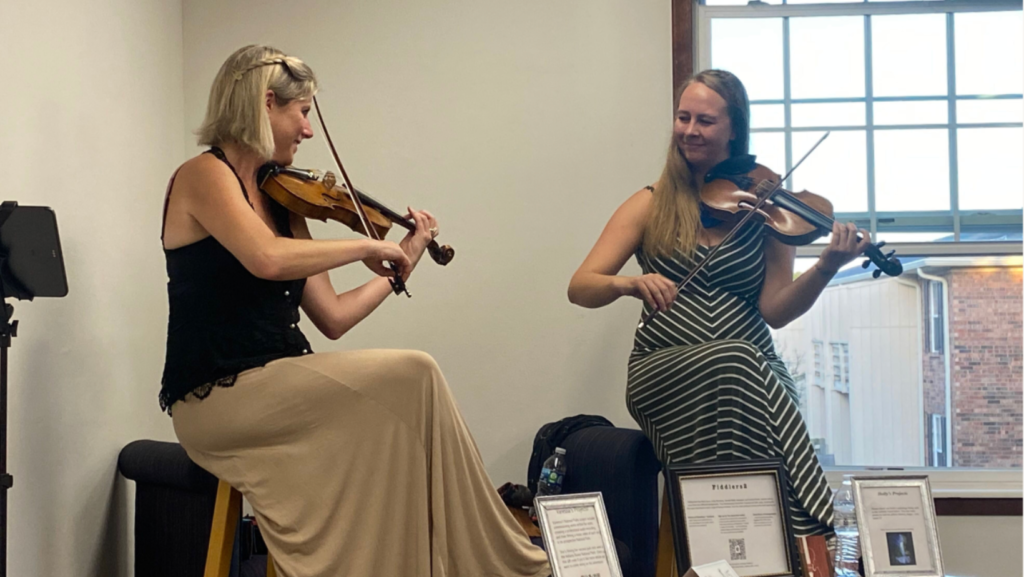 Tonight is the first live house concert that Fiddlers2 has performed since November of 2019!!
On one hand, it feels like it's been forever. But, on the other hand, it feels like it was just yesterday.  We are moving on in a somewhat regular fashion with our lives.  Certain things will probably never be the same again but I have faith that most things will return to normal. 
Moving On and Music Arranging
In March of 2019, Holly and I had just finished arranging our first cd's worth of Scottish tunes and we performed a house concert at my house and another at hers.  We were far from polished.  Each arrangement was handwritten and we had to line up pages upon pages of music that we spread across five stands. 
We and the audience were all laughing as we performed because for each set of 3-5 tunes, we'd have to start at one end together and then move our way down the line of stands till we reached the other end. It was pretty hilarious!  
A Musical Transformation
It was fun to be able to share the process with everyone from the beginning. What started out as an unpolished and awkward (and humorous) performance, six months later, turned into a polished, memorized and musically tight performance of all of those same tunes for our final CD release party in September of 2019.
We're doing the same thing again this weekend but with our upcoming Irish CD.  We have six of our 12 tracks arranged which is very exciting!  The arranging process has been way more spread out this time around because we haven't been able to think about doing live house concerts until recently. 
Deadlines and Online Concerts
Without a firm deadline, it was a lot harder to buckle down and arrange.  We did, of course, have the online option which a ton of bands wonderfully utilized during COVID. For us, it didn't seem to have the same effect as a live concert deadline for getting things accomplished.
Now, with things getting back to normal we can plan concert dates and actually expect them to happen (YAY!!)  I'm a planner and love having things in my calendar to work towards and get excited about.  I think that the cancelled plans that kept happening during COVID-19 were one of the hardest things emotionally for me.  I'm so excited to be planning things and to be watching them actually come to fruition!
This weekend's house concerts are at my house tonight and at Holly's house on Sunday afternoon (hopefully outside if the weather hangs in there). It's a full house at both with a total of 45 people…so excited!! We'll also be sharing the Sunday concert on FB live for those of you who can't squeeze in a live concert.
Streamlining the Music Process
This time around, we've been putting everything in Muscore as we go, which has streamlined things immensely. It's led to a slightly more polished version of our 2019 March concerts since we'll only need one stand each and won't be doing the stand dance, haha. We'll also be adding in some of our Scottish tunes which are incredibly oiled and fun to play!  
We're excited to be performing live again and look forward to this weekend's concerts and many more in the future!!
Fiddlers2 is a Celtic music duo featuring violin duets performed by Holly Sternberg and Vanessa Porter. Their first album "Mirrors of Elsewhere: Scotland" showcases the music of Scotland and is available for purchase and download. Their second album spotlighting Irish tunes is forthcoming. 
Besides playing private house concerts in California, Nevada, Indiana, and Illinois, they travel the country attending Traditional Celtic Music festivals. Sign up for their mailing list so you never miss out on their latest news, upcoming performances, and album releases. And if you're interested in hosting a house concert? Get all the details by clicking this link.