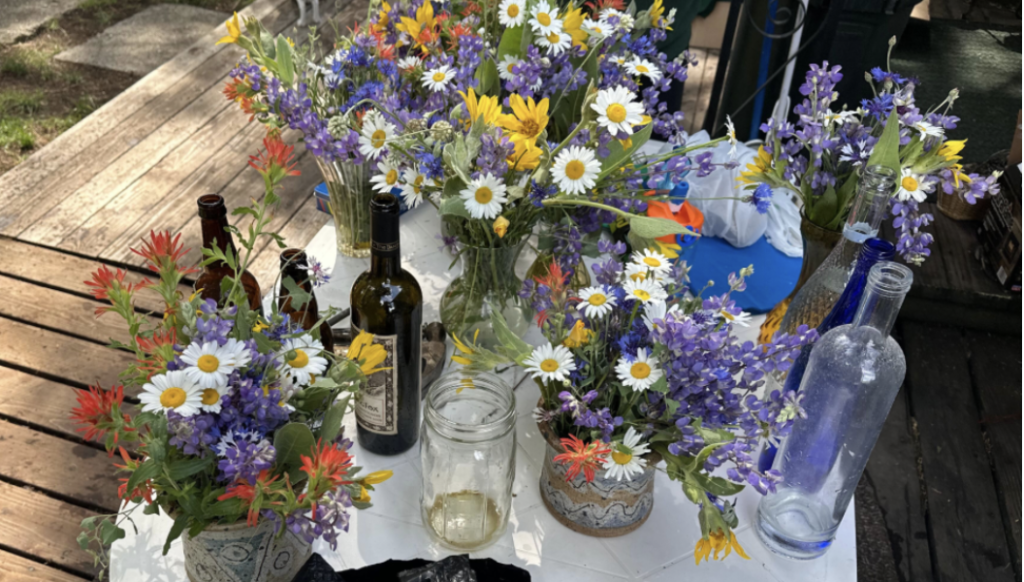 So much has happened since our last post! Should this surprise me? Not really, considering it's been almost a year and a half since our last update.
We plan to be much better about staying in touch from here on out with the help of my awesome friend and new marketing strategist, Engrid Barnett! More on this in a second …
What else has been going on? Recording folk songs for our second Celtic music album, a couple of trips down memory lane, and a beautiful wedding that I (Vanessa) kinda feel personally responsible for. Keep reading to find out more on that, too!
All Things Social for Fiddlers2

Engrid and I (Vanessa) go way back. We met through the Reno Philharmonic years ago, probably close to 17 years ago now. Crazy how fast time flies!
She's a fantastic bass player, French speaker, travel blogger, novel writer, and an SEO and social media expert. I'm so happy that she's agreed to come on board to help with all things social for our Celtic music group Fiddlers2 … Yeah!
Four and a Half Years … Can You Believe It?

In preparation for our new marketing efforts, I've spent a bunch of hours over the last month organizing pictures and videos of Fiddlers2.
The result? I've pulled together a ton of pictures and videos of concerts, arranging and recording sessions, and good old-fashioned playing sessions …
Engrid will be sharing these with you in an organized, regular fashion.
Seeing how much Holly and I have done together as Fiddlers2 over the past four and a half years has felt kind of mind-blowing …
… and yes, I said it! FOUR AND A HALF YEARS!
Celtic Traditional Music and More

Here's a small refresher. We created our first Scotland-inspired folk music album, chock full of Celtic traditional music with a modern touch, within a year of becoming a band in 2019 …
And I'm over the moon to report we're currently finishing up our second album.
What can you expect from this one? An homage to the Emerald Isle, Ireland. So, get ready for toe-tapping tunes inspired by Irish traditional music with our personalized twist, of course!
Concerts, More Concerts, and Hoosiers!?!

What else have we done? We've performed 25 concerts, including:
A concert at the Brewery Arts Center in Carson City, Nevada
Several Zoom concerts
A Facebook Live concert
House concerts at my house
House concerts at Holly's house
Private house concerts in people's lovely homes
A Midwest house concert tour last summer
A Midwest house concert series, you ask? I know, it sounds a bit strange considering we both live in Reno.
But I grew up in Indiana and Holly's new husband (I told you a bunch has happened!) is from Indiana, too …
Apparently, Holly likes surrounding herself with Hoosiers 'cause we're cool like that! 😉
Weekend Arranging Parties

I remember when Holly and I were neck-deep in arranging our Scottish music album in 2019. We'd do whole "arranging weekends" at her house or mine. (Total party animals!)
What constituted an arranging weekend? Something kinda like this …
Staying in our pj's all day, cooking a HelloFresh box when our stomaches mutinied, and discussing interesting guys on our dating apps … oh, with a little music arranging tossed in. Ha ha!
Holly talked about this guy, Nick, on the Happn dating app. She was trying to decide if she wanted to meet up with him or not …
Then, I heard he was from Indiana, and it was 'nuff said!
Put another way, I encouraged her to give him a chance because Indiana people are totally awesome. (No bias here!) …
And (drum roll please!) I got it right.
The Wedding Update (as Promised!)

Fast forward through a whirlwind courtship and a surprise proposal by Nick on a hike a couple of months ago, and it was time to plan a wedding. (Nice work, Nick!)
They set the date for June at her parent's beautiful home in Cromberg, an adorable small town in Northern California …
To make a long story short … It was magical, they are magical, and I'm so happy for them both!
The Celtic Music Keeps Coming

As you can see, we've had plenty going on. But I can assure you there are no signs of Fiddlers2 slowing down.
Stay tuned for our forthcoming Irish music album, sure to get you in the mood to dance a jig, drink a Guinness, or maybe both. (In no particular order!)
And keep your eyes peeled for more regular updates from Holly and me as we continue those previously mentioned "arranging weekends," house concerts, and much more!
Fiddlers2 is a Celtic music duo featuring violin duets performed by Holly Sternberg and Vanessa Porter. Their first album "Mirrors of Elsewhere: Scotland" showcases the music of Scotland and is available for purchase and download. Their second album spotlighting Irish tunes is forthcoming.
Besides playing private house concerts in California, Nevada, Indiana, and Illinois, they travel the country attending Traditional Celtic Music festivals. Sign up for their mailing list to stay tuned on their latest happenings, upcoming performances, and album releases. And if you're interested in hosting a house concert? Get all the details by clicking this link.