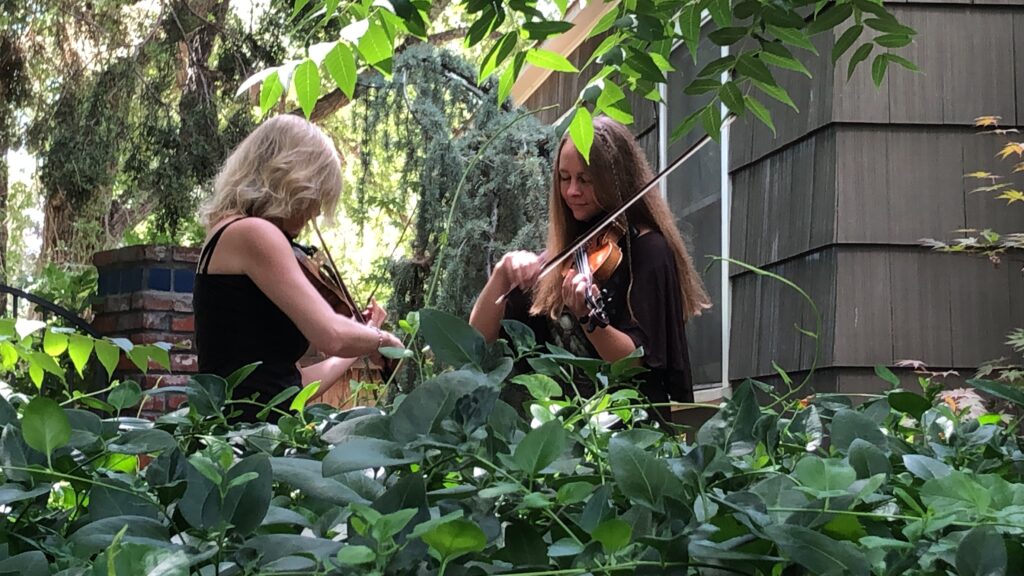 We've officially completed our second studio recording!!! Holly and I have completed the final five tracks for our Mirrors of Elsewhere – Ireland album.
We originally planned on having a new one out every two years. And we're not that far off considering our Mirrors of Elsewhere – Scotland album came out in 2019, AND we had to contend with a worldwide pandemic and global shutdown after that …
We'll see if we can do the every-two-year thing from here on out. Ready to hear more about our Irish music recording sessions? Here we go …
Mirrors of Elsewhere — What's Next?
First off, there's a big question hanging over Fiddlers 2 right now. What's next?
Holly and I are still discussing the geographical inspiration for our next installment in the Mirrors of Elsewhere series.
Want to find out where we're thinking? Shhhhh … don't tell anyone else!
We're stuck between Mirrors of Elsewhere – Scandinavia AND Mirrors of Elsewhere – Breton …
Thoughts? Let us know in the comments below!
Holly's leaning toward Mirrors of Elsewhere – Scandinavia, and I'm more on board with Mirrors of Elsewhere – Breton.
What excites me about Breton? Fun fact … I was born there!
So, it would involve a whole lotta getting back to my roots in Northwestern France, a thought I'm already relishing.
That doesn't mean we can't start arranging both albums at the same time …
Irish Music Arranging and Next Steps

There are potential issues with this multi-tasking approach, however … For starters, arranging music takes quite a bit of time.
What's the Fiddlers2 process look like? We start by selecting tunes we like and organizing them together into sets.
Next, we figure out tempos and how many times we want to play through each tune.
Then, we figure out the backing accompaniment …
What does this include? Everything from harmonies to descants, chopping, octaves, pizzicato, harmonics, double-stop chords, and other fun techniques and effects.
Love, Heart, and Soul in Every Folk Tune

It's an exhilarating process, and it's always exciting to hear the finished product … especially after all the time and energy we put into creating music …
Music that's entertaining, authentic to its Celtic roots, and filled with all of the love, heart, and soul Holly and I can pack into it!
A tall order? Sure! But we never settle for less.
The Process of Crafting Music

At recent house concerts, we've performed portions of the final five tracks from our Irish music album, gaining confidence with them along the way.
At the house concerts, there were still a few that were brand new, hot-off-the-press and needed more work to get up to tempo and sounding amazing.
Being in a violin duet means trusting one another, not only in terms of the creative license we take and artistic decisions we make, but also in terms of staying disciplined and prepared …
Even when everything in life beckons you away from the practice room.
Any musicians out there? I know you can relate.
This summer, I left for a month to visit friends and family in the Midwest. I got back to Reno with only three days to practice with Holly before the recording process began again …
And this amid our busy teaching schedules and crazy lives!
Double Stops and Life … Prep Is Key

I'm not sure about Holly, but before our final studio recordings, I practiced the double-stop chords really slowly for intonation.
Then, I practiced everything with the metronome.
That way, when Holly and I got together, everything was polished, streamlined, and ready to go.
We didn't want to waste studio hours (which translates into our money) or Michael's time at Tanglewood Recording Studio by not being as prepared as possible.
Michael the Magician

What's the recording studio experience like? Michael at Tanglewood makes it a blast!
We've spent a lot of time over the years in the studio watching Michael work his magic. In fact, I like to call him "Michael the Magician" …
Put another way, he's amazing!
We loved working with him again and finishing up our second album together…
And now that everything's recorded, the fun continues with the CD release party and concert. We'll also share our arrangements on this website, so stay tuned for more fun with Irish music.
Fiddlers2 is a Celtic music duo featuring violin duets performed by Holly Sternberg and Vanessa Porter. Their first album Mirrors of Elsewhere: Scotland showcases the music of Scotland and is available for purchase and download. Their second album spotlighting Irish tunes is forthcoming.
Besides playing private house concerts in California, Nevada, Indiana, and Illinois, they travel the country attending Traditional Celtic Music festivals. Sign up for their mailing list so you never miss out on their latest news, upcoming performances, and album releases. And if you're interested in hosting a house concert? Get all the details by clicking this link.